THE LS SERIES
A MOVING MASTERPIECE.
ALLURING AND EXTREMELY WELL-APPOINTED, THE FLAGSHIP LS SERIES IS A STATEMENT IN ITSELF. IT'S EVERYTHING YOU WOULD EXPECT FROM THE PINNACLE OF LUXURY PERFORMANCE.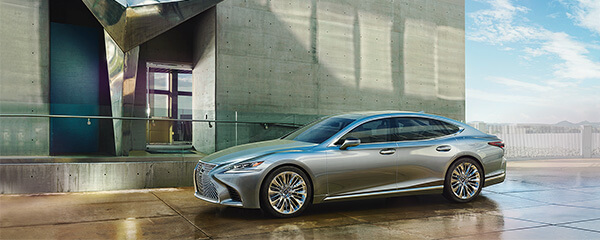 THE LS SERIES
THE ULTIMATE EXPRESSION OF LUXURY.
Redesigned from top to bottom, the new LS epitomizes the Lexus spirit of innovation and excellence for the next generation.
The combination of two engines lies at the heart of the LS for the ultimate balance of sustainability, technology and power.

A sleek coupe-like profile ignites the senses, hinting at the transcendental driving experience that awaits you.
Intricacies like the hand-pleated door trim represent the pinnacle of takumi craftsmanship.

The elaborate design of the new spindle grille guarantees that wherever you go, eyes will follow.
CREATIVE COMBINATIONS: SERGIO BARROSO AND LEXUS LS

Sergio Barroso's philosophy towards cooking perfectly mirrors the LS – a skillful blend of single elements that create a unique and unforgettable experience.

LUXURY MOLDED BY PASSION

Sculpted from dreams and molded with passion, the LS delivers precision and refinement wherever the journey takes you.
CHOOSE YOUR LS
5.4

SECONDS
0 - 100 KM/H

250

KM/H
MAX SPEED

359

BRAKE
HORSEPOWER