THE NX HYBRID SERIES
LEAD AT EVERY TURN.
SHARP-EDGED EXTERIOR AND FUN-TO-DRIVE EXPERIENCE. THE 2020 NX HYBRID SERIES STRIKES THE RIGHT BALANCE BETWEEN THE ROAD AND YOU.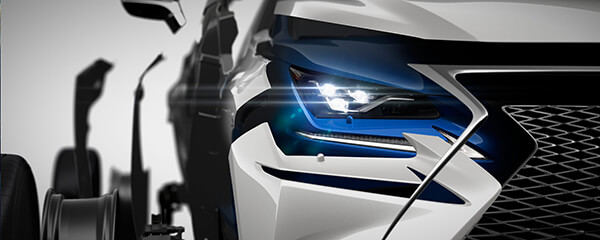 THE NX SERIES
MAKE EVERY DRIVE AN ADVENTURE.
The NX 300h hybrid powertrain guarantees a high level of fuel economy, performance, clean emissions and quietness.
The NX F SPORT's front grille features the same jet-black plating seen on the RC F, dramatically enhancing its visual impact.

The Lexus Safety System (LSS) provides more secure during your drive experience. Meet the Pre-Crash System (PCS), one of the LSS package items, that helps the driver on braking the vehicle in cases of imminent collision.
An exclusive metallic satin finish on controls, switches and door handles evokes a distinct air of elegance.

More connectivity for you with Android Auto and Apple CarPlay systems.
CHOOSE YOUR NX
9.2

SECONDS
0 - 100 KM/H

180

KM/H
MAX SPEED

200

BRAKE
HORSEPOWER

9.2

SECONDS
0 - 100 KM/H

180

KM/H
MAX SPEED

200

BRAKE
HORSEPOWER

9.2

SECONDS
0 - 100 KM/H

180

KM/H
MAX SPEED

200

BRAKE
HORSEPOWER